New CMLS Executive Director Announced
Daniel Morris Named Executive Director of Central Minnesota Legal Services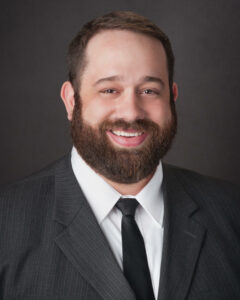 The Board of Directors of Central Minnesota Legal Services (CMLS) is pleased to announce that, following a nationwide search, Daniel Morris has been selected as CMLS' next Executive Director.  Morris succeeds Jean Lastine who will retire on September 29, 2023, after serving twenty-seven years as Executive Director.  Morris' background in supervising the legal work and operations of legal aid non-profit offices, combined with a deep commitment to serving low-income clients facing barriers to fully participating in the justice system, will serve to advance the cause of providing high-quality legal services to those that need it most throughout Central Minnesota. Morris joined CMLS in 2018 and has served as the Managing Attorney of the St. Cloud and Willmar Offices and the Volunteer Attorney Program.
"I am thrilled to continue my work with CMLS in a new capacity," says Morris. "I admire the strong client-centered values of the staff and volunteer attorneys who dedicate considerable resources to serving their communities across a large and diverse service area; I am especially fortunate to step into a role that was established as a leader in the legal services community by the outgoing Executive Director."
Prior to Joining CMLS, Morris served as the Managing Attorney of the Willmar, Minnesota office of Mid-Minnesota Legal Aid.  He also practiced with Anishinabe Legal Services in Cass Lake, Minnesota and served as a tribal attorney with the White Earth Band of Ojibwe in White Earth, Minnesota. Morris is a 2010 graduate of the University of St. Thomas School of Law.
About Central Minnesota Legal Services
Central Minnesota Legal Services provides free civil legal assistance through direct representation, brief advice, and providing community legal education programs to low-income Minnesotans who cannot pay for a lawyer.  The services are provided by a staff program of attorneys and support staff in partnership with local private attorneys that volunteer through the Volunteer Attorney Program. With offices in Minneapolis, Anoka, St. Cloud and Willmar, CMLS serves a 21-county service area in Central Minnesota where an estimated 185,000 people are experiencing poverty.