Día de los Muertos
Kristin is a Client Services Coordinator who serves clients by doing initial applications. Recently she and her family received 2nd place for the Anoka Halloween House decorating contest and educated the community about Día de los Muertos while having fun, too!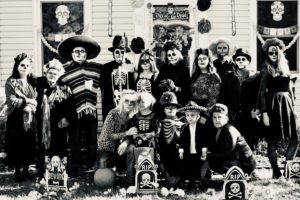 Kristin had over 1,000 families come by her home during Halloween weekend and view the decorations she and her family put together. Kristin's goal was to educate the community about the Holiday and the traditions. Four generation of her family participated, the oldest was 86 and youngest was 3! Kristin's family had the opportunity to answer questions from visitors about Día de los Muertos.
Kristin writes the following about this special holiday:
What is Día de los Muertos? It's not Halloween but, rather, Día de los Muertos (Day of the Dead) is a celebration of life, death, and remembrance. It's a celebration that involves wearing costumes/painting your face, visiting and cleani ng cemeteries, honoring you past generations of family, honoring departed loved ones and thinking about death on an occasion when, some believe, the boundary that separates our world from the next weakens and your ancestors come back for 24 hours to visit with you. Día de los Muertos is an annual celebration on November 1st and 2nd . Although most strongly identified with Mexico, Día de los Muertos is celebrated throughout Latin America and everywhere with a Latino population.
People get together, as well as visit the cemetery, some even sleeping in the cemetery, cleaning each loved one's grave and bringing offerings of flowers, drinks and food. This to my family who grew up in Mexico, is to value your roots and your family, to honor them and remember them, connect with your roots and clean the graves of dirt, debris and grass. In Mexico, for example they do not have anyone that maintains the graveyards or cleans them, so this is a chance for family to visit and maintain their ancestors' graves as well.
For my family, the goal of celebrating this Holiday in Minnesota is to create understanding and community.  First, people set up a candlelit altar in their homes so spirits can find their way back to their relatives. The altar also offers some of the favorite foods of the deceased—just in case they get hungry. Items that were important to the ancestors when they were alive, such as favorite book or musical instrument, are placed on the altar as well.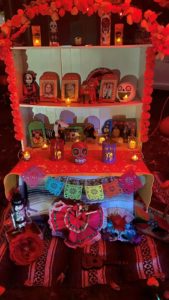 Every ofrenda also includes the four elements: water, wind, earth and fire. Water is left in a pitcher so the spirits can quench their thirst. Papel picado, or traditional paper banners, represent the wind. Earth is represented by food, especially bread. Candles so the spirits can find their way. The cempasúchil, a type of marigold flower native to Mexico, is often placed on ofrendas and around graves. With their strong scent and vibrant color, the petals are used to make a path that leads the spirits from the cemetery to their families' homes.
Monarch butterflies play a role in Día de los Muertos because they are believed to hold the spirits of the departed. This belief stems from the fact that the first monarchs arrive in Mexico for the winter each fall on Nov. 1, which coincides with Día de los Muertos. Calaveritas de azucar, or sugar skulls, along with toys, are left on the altars for children who have passed.
The "Day" of the Dead really spans three days and nights, starting October 31. This altar had been decorated for Children's Day, which takes place November 1. It's said the children are eager to run back to their families, so they arrive the night before the adults do on November 2. Feliz Día de los Muertos! We remember you!