CMLS Staff Attorney to Receive MJFs Direct Service Provider Award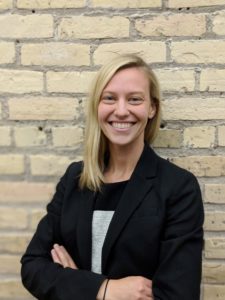 CMLS is proud to announce that staff attorney, Erin Osborne, will receive the Minnesota Justice Foundation Direct Service Provider award at MJF's virtual event on September 30th.
Erin will celebrate her 5 year anniversary with CMLS this December. Erin practices primarily in the areas of housing and family law. In her tenure with CMLS, Erin has advocated for protection of domestic abuse victims through her participation and leadership with CMLS' Order for Protection project in partnership with the Hennepin County Attorney's Office – Domestic Abuse Service Center, in addition to her rigorous advocacy for the rights of low-income tenants. Erin has preserved housing and advocated for the health of safety of nearly 300 tenants. Amongst her other great accomplishments, Erin has proactively established relationships with community groups serving the Native American population to provide outreach and raise awareness of CMLS' services. 
Along with Erin, other award recipients are Richard Allyn-Robins Kaplan LLP (Private Practice Pro Bono), Sothea Phea Poch-Southern Minnesota Regional Legal Services (Advocate), and the following Law Students: Katherine Boland (University of St. Thomas School of Law), Marisa Tillman (University of Minnesota Law School), and Dylan O'Brien (Mitchell Hamline School of Law).
Congrats to all award recipients!