CMLS Executive Director Announces Her Retirement
Dear Friends and CMLS Supporters,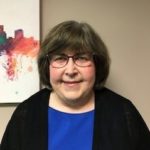 I am writing to share the news that I will be retiring from my position as Executive Director of Central Minnesota Legal Services later this summer.
I became Executive Director in 1996 and have had a wonderful career as a legal aid lawyer that I will never forget.  It has been my honor to lead an organization that vigorously advocates for clients who have legal problems affecting very basic legal needs including their safety, housing, and economic stability.  It has been a privilege to lead CMLS from an organization with an uncertain future due to volatile federal funding for legal services in 1996, to a growing organization with sound finances.
As our funding has increased so has our staff.  I am very proud of what CMLS staff in Minneapolis, Anoka, St. Cloud, and Willmar, and our Volunteer Attorney Program, do to serve low-income clients in central Minnesota.  CMLS staff work tirelessly every day to seek justice for clients and empower them to participate in our justice system.  It has been an honor to lead our staff and cheer them on in what they accomplish through their commitment and legal advocacy for our client community.
The future of CMLS is bright because of its dedicated staff, board, and partners. All of whom are committed to advancing the cause of equal justice under the law for every low-income person who needs an attorney to enforce their rights.
A search committee has been formed to find a new Executive Director and an announcement for my position will be available soon.  It will be posted on the CMLS website.  I plan on being around to help with the transition to a new Executive Director.
I am looking forward to more time for family, traveling, reading more books, and volunteering.  Thank you for your support over the years and I hope you'll join me in continuing to support the work of CMLS.
Sincerely,
Jean Lastine